ASIN: B012A1R6UI
Item Name (aka Title): SOLEDI Beautiful Earl Rose Bouquet Charming Delightful Silk Flower Arrangement Large Palace Rose Artificial Flowers Hotel Wedding Home Decorative Flower (Vase not included) (Pink)
Product ID: 701599579600
Product ID Type: upc
Brand Name: SOLEDI
Manufacturer: SOLEDI
★DIGNIFIED AND ELEGANT: SOLEDI artificial flowers with bright colors and unique shape, are dignified, elegant, beautiful, vivid realistic and lifelike, will remain beautiful year after year. They will never wither or fall.
★GREAT DECORATION: Decorate your living room, bed room,garden or office with the beautiful bouquet to create a romantic and natural atmosphere. Made of high quality silk cloth, easy to clean. Its classic design and great appearance suits your decoration demand in your everyday life !
★VARIOUS USAGE: Ideal for stages, parlors, bedrooms, offices, hotel, dining rooms, stores, private club and any other places that you want to decorate. They can also be used on wedding, birthday, Valentine's Day, etc.
★GREAT ALTERNATION: Great substitute to live plants. This flower bouquet is made of real-looking flowers with bright color, non-toxic and harmless, no color fading and no flower dropping off.
★SATISFACTION GUARANTEED: If you are not satisfied with your purchase, you can contact us to return them for a full refund -no questions asked.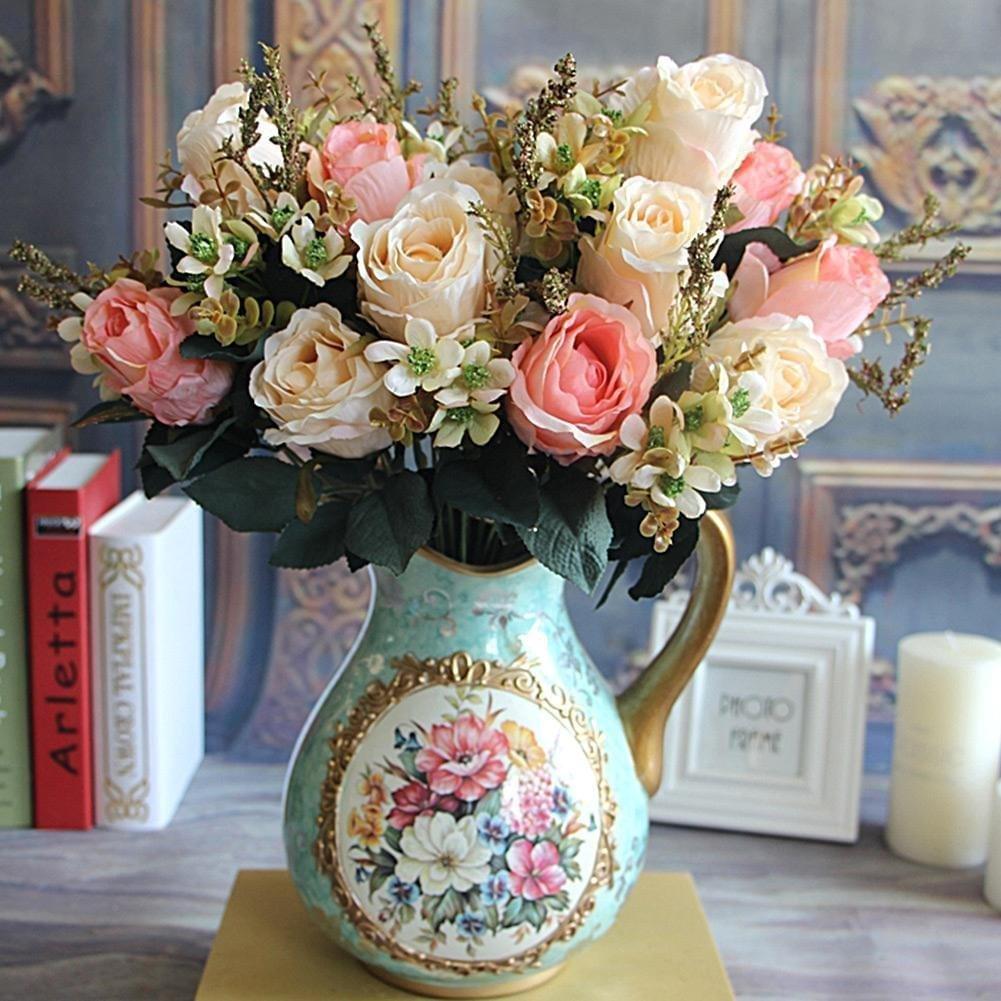 Product description
Colour:Pink
Brand Introduction:
Soledi: The meanning of "sole" is sun. "di" stems from the Italian suffix of Monday-lunedì, Tuesday-martedì, Wednesday-mercoledì, Thursday-giovedì, Friday-venerdì.
So Soledi means everyday is sunny day with full of hope forever.
Product Specifications:
Category: SOLEDI artificial flower
Color: champagne, blue, orange, milk white,pink
Material: plastic + silk cloth
Overall Length: is about 47cm
Overall Dia: 20cm
Package includes:
1 Bouquet Roses(7 Roses+ 5 Group of Small flowers+ 12 leaves)
Attention:
1. The color will be a little different from the actual items due to the different monitors.Please understand that!
2. The vase is NOT included!